Bāsu Ghoṣa dāsa (ACBSP)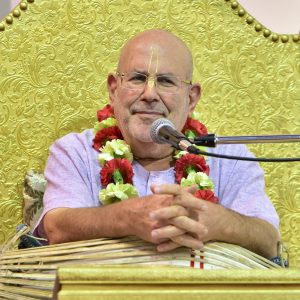 Bāsu Ghoṣa dāsa joined ISKCON in 1973 at the Evanston temple (Chicago). He has resided in India since 1974 and since 1984 he has been president of the ISKCON temple in Baroda, Gujarat. He is the vice chairman of the ISKCON India Governing Bureau and a member of the Māyāpura Executive Board. He is also fluent in speaking Hindi, Gujarati, and Sanskrit.
Mukunda Datta dāsa (ACBSP)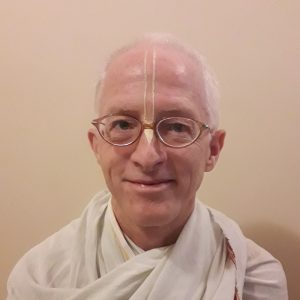 Mukunda Datta dāsa was born in Los Angeles and joined ISKCON in 1976 as a teenager, after reading the books of His Divine grace A.C. Bhaktivedānta Swami Prabhupāda. He received spiritual initiation from Śrīla Prabhupāda, and served under Tamal Kṛṣṇa Goswami on the Rādhā-Dāmodara Traveling Saṅkīrtana Party. He received his BA degree (hons) from the Center for Asian Studies at the University of Texas at Austin, and his MA in South Asian Languages and Literature from the University of Washington, where he specialized in both Sanskrit and medieval Hindi. He studied Oḍissī dance music at Kala Vikas Kendra, Cuttack, and received formal training in Hindusthānī classical music (in pakhāvaj) from Pdt. Ānand Kumār Mallik (Darbhaṅgā dhrupad gharānā) at Vṛndāvana. In 2002, he was invited to become a charter member of the Sastric Advisory Council to the ISKCON Governing Body Commission. Soon thereafter, he joined the Bhaktivedānta Book Trust, serving as a Sanskrit translator and editor under the late Gopīparāṇadhana Prabhu at Govardhāna, India. He later assisted in publishing Laghu-bhāgavatāmṛta, Bhagavata-sandarbha, and other works begun by Gopīparāṇadhana Prabhu as well as preparing his own translations of Padyāvalī and other works by previous ācāryas. He has lectured worldwide for many decades on Kṛṣṇa consciousness and is now settled in Vṛndāvana (India).
Bhakti Ārjava Prīti Vardhana Swami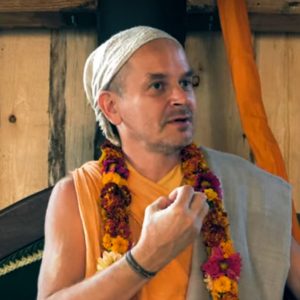 Bhakti Ārjava Prīti Vardhana Swami holds an MSC in Chemistry and Electronics from the Institute of Chemical Technology in Prague, Czech Republic (1992), and he is presently co-Dean of the Bhaktivedānta Academy at Māyāpura, where he has been serving in various capacities since 1993. The focus of Mahārāja's service is for the further revival of education in ISKCON, according to the teachings of His Divine Grace A.C. Bhaktivedānta Swami Śrīla Prabhupāda.
Dr. Sahadeva dāsa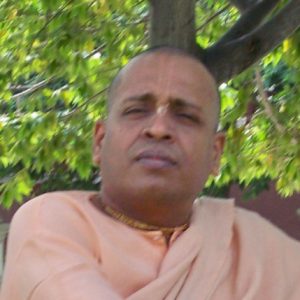 Dr. Sahadeva dāsa (Sanjay Shah), born in December 1966, is a monk in Vaiṣṇava tradition. Coming from a prominent family of Rajasthan, India, he graduated in commerce from St.Xaviers College, Kolkata and then went on to complete his CA (Chartered Accountancy) and ICWA (Cost and works Accountancy) with national ranks.
His areas of work include research in Vedic and contemporary thought, Corporate and educational training, social work and counseling, traveling in India and abroad, writing books and of course, practicing spiritual life and spreading awareness about the same. He is based in Secunderabad.
Dr. Sahadeva dāsa is also the author of several books, whose titles include Wondrous Glories of Vraja, Tsunami of Diseases Headed Our Way – Know Your Food Before Time Runs Out, To Kill Cow Means To End Human Civilization, Capitalism Communism And Cowism – A New Economics For The 21st Century, End of Modern Civilization And Alternative Future, World Through The Eyes of Scriptures, and many other titles.
Vidvān Gaurāṅga dāsa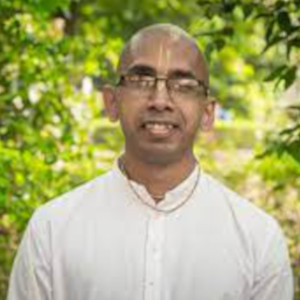 After reading the majority of Śrīla Prabhupāda's writings and associating with his followers in Chennai, Tamil Nadu, India, Vidvān Gaurāṅga dāsa became convinced in 1987 that Śrīla Prabhupāda authentically and powerfully represents the factual message of the Vedic śāstras. In 1989, he joined ISKCON as a temple resident and within a year, moved to Śrī Māyāpur where he received spiritual initiation from HH Jayapatāka Swāmī Mahāraja and began his formal studies in Sanskrit, Bengali and the writings of the predecessor ācāryas. From 1999, he taught the Bhagavad-gītā thrice at the Māyāpur Institute for Higher Education and Training. In 2005, with the approval and encouragement of his spiritual master, he joined HG Gopīparāṇadhana Prabhu's Śrīmad-Bhāgavata Vidyāpīṭham to coordinate and teach Bhagavad-gītā and Sanskrit at the Bhāgavata praveśa study program in Māyāpur. He taught at Māyāpur Online Education, now a part of the Māyāpur Institute's Online Study Department, and serves ISKCON Śrī Māyāpur in other ways.
Vidvān Gaurāṅga dāsa has also translated Śrīla Rūpa Gosvāmī's Nāmāṣṭaka and its commenaries, published annotated translations of two essays by Bhaktivinoda Ṭhākura and is working on an elaborate, annotated translation of the Vālmīki Rāmāyaṇa, all published by Rūpa Raghunātha Vāṇī Publications <http://www.ruparaghunathavani.com>.
Kṛṣṇa Kīrti dāsa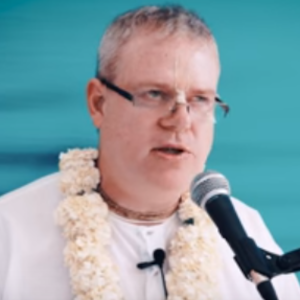 Kṛṣṇa Kīrti dāsa is from the United States and joined ISKCON in 1986 in Dublin Ireland. He has an MS in Statistics from Texas A&M University and worked as an information technology professional for twenty years before returning to India in 2017. He is a disciple of His Holiness Bhakti Vikāsa Swami and is also the convenor of the ISKCON India Scholars Board.
Dāmodara dāsa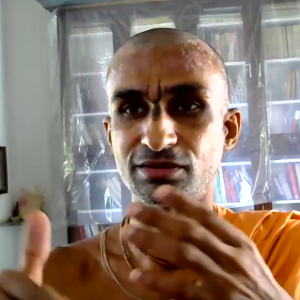 Dāmodara dāsa is a disciple of H.H. Bhakti Vikāsa Swami and had joined ISKCON in 2006 at Vallabh Vidyanagar, Gujarat, where he had previously obtained his BE in Mechanical Engineering. He has been engaged in research on varnāśrama-dharma and in establishing farm, gurukula, and varnāśrama projects.
A special focus of his studies in śāstra is on mīmāṃsā and nyāya for resolving doubts that arise from differing instructions from the śāstras, sādhus, and gurus.
Dāmodara dāsa is also the principal author of the book Vaiṣṇava-dīkṣā according to Nārada-Pañcarātra, which for the first time has given a detailed śāstric account of the dīkṣā procedure that ISKCON has followed up to the present day.
Arjunasakhā dāsa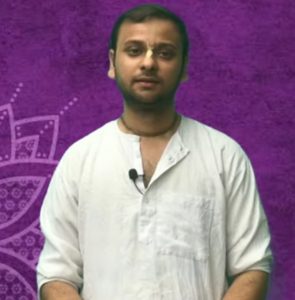 Arjunasakhā dāsa (Dr. Abirbhab Chakraborty) MBBS, Medical College, Kolkata.
Arjunasakhā dāsa joined ISKCON in 2011 through the ISKCON Youth Forum (IYF) at ISKCON Kolkata and is presently serving in the Bhaktivedānta Research Center, Kolkata, for their manuscripts division.
Research Interests include:
Veda, Upaniṣads,
Madhvācārya's philosophy,
Epistemology of Jīva Gosvāmī in six sandarbhas,
Comparative philosophy of the four Vaiṣṇava sampradāyas,
Texts of Gauḍīya Vaiṣṇava ācāryas.
Śrīdhara Śrīnivāsa dāsa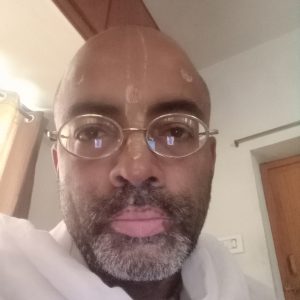 Śrīdhara Śrīnivāsa dāsa has been an initiated disciple of H.H. Bhakti Vikasa Swami since 2006 and is the author of A Divine Prophecy (Bhakti Vikas Trust, 2017), written in both Tamil and English. He has also authored articles published in the Tamil edition of Back to Godhead magazine on a variety of topics, which include philosophical debates, descriptions of holy places, and the pastimes of Lord Kṛṣṇa.
Śrīdhara Śrīnivāsa dāsa was born and brought up in a traditional Tamil Nadu Śrī Vaiṣṇava Iyeṅgār family and trained in daily sandhyāvandana and samid-ādhāna (fire sacrifice). He has a bachelor's degree in electronics and communication engineering as well as an MBA from the City University of Seattle, and he has worked as a senior IT manager.
He currently lives with his family in Coimbatore, Tamil Nadu, where he engages in book distribution, preaching, and writing.
Vaṁśidhārī dāsa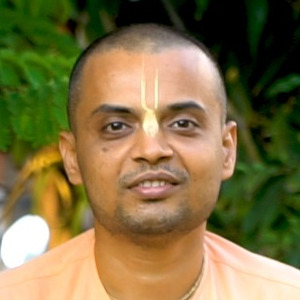 Vaṁśidhārī dāsa is a disciple of H.H. Bhakti Cārū Svāmī and has been serving in ISKCON since 2006. He earned a B.Tech. in Electrical Engineering (2008) from NIT Bhopal and held the position of Assistant Manager at Reliance Infrastructure Ltd. before joining ISKCON full-time in 2011 as a brahmacārī. He is currently serving as Director of the ISKCON Youth Forum at ISKCON Baroda as well as serving as the Regional Assistant Secretary for ISKCON Gujarat.
Dr. Dāmodara-caitanya dāsa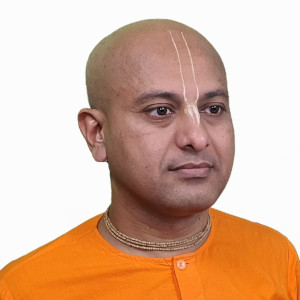 Dr. Dāmodara-caitanya dāsa is a disciple of H.H. Bhakti Vikāsa Svāmī and has been serving in ISKCON since 2000. He was awarded his MBBS from Medical College, Baroda, Gujarat, and was a physician at Sterling Hospital and also Bhailal Amin General Hospital in Baroda. In 2008 he joined ISKCON full-time as a brahmacārī and has been dedicated to service in youth development, research in Vedic literature and teaching the Sanskrit grammar of Pāṇini.
Jaya Nityānanda dāsa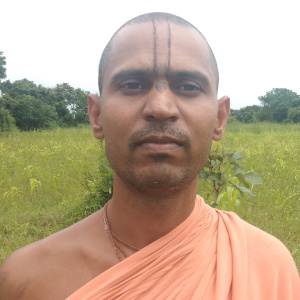 Jaya Nityānanda dāsa is a disciple of H.H. Bhakti Vikāsa Svāmī. He holds a B.E. in Electrical Engineering from Sardar Vallabhbhai Patel University in Vallabha Vidyanagar, Gujarat, where he first came into contact with ISKCON in 2003. In 2008 he joined the ISKCON Ashrama in Vallabh Vidyanagar as a brahmacārī. Later he studied Sanskrit grammar from the Harināmāmṛta-vyākaraṇam of Śrīla Jīva Gosvāmī at the Sanskrit school of H.G. Gopiparaṇādhana Prabhu, and he also taught Spoken Sanskrit from Sankrita Bharati in New Delhi. For the past 10 years, he has taught Sanskrit grammar and Spoken Sanskrit at the gurukula in Nāndagram, Gujarat.